The first thing that we're going to examine is the addition of a free vector to a point. How can it be defined and interpreted?

Definition: The addition of a point P and a free vector V results back in a point (P + V). That point (P + V) is given by the ending point of the representative of V in P. Wow! Let's say this i.e.: take that free vector V, put it with its tail in the point P, and your resulting point will be the head of vector V.





But how do we put this in our computer? Well, you already know that you use a place vector OP to store your point P: that place vector contains the coordinates of P. So, all you have to do is to replace P by its place vector OP. In that way, you really calculate the sum OP + V, which is a sum of 2 vectors and you already know how to do this. As result of this sum, you will get - suprise, suprise - a new vector. And that one is exactly the place vector of (P + V): it will contain the coordinates of the resulting point.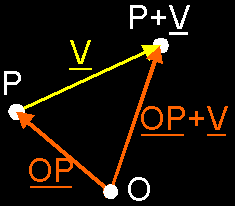 In plain English, please! OK, you use coordinates to store your point P, don't you? Yes, let's say these coordinates are P(p1, p2, p3). I hope you still remember of last week that these coordinates are actually the component values of the place vector OP of point P: The place vector of P(p1, p2, p3) is OP(p1, p2, p3).

Also, let us assume that the component values of vector V (the one we want to add to P) are V(v1, v2, v3).
Now, to add V to P, you simply add all component values together: P(p1, p2, p3) + V(v1, v2, v3) = (P + V)(p1+v1, p2+v2, p3+v3).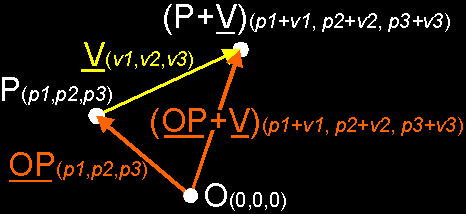 This result depends on the origin? No, where do you see an origin in the definition? Nowhere! OK, great... If you don't believe, try to draw several situations on paper and feel the magic.

interpretation: You can see all this as moving a point P in a certain direction and sense, and over a certain distance to a "new" point (P + V). That's why it's called a translation: you translate P to (P + V). The vector V is the "prescription" of this translation: you move P v1 units in the x-direction, v2 units in the y- and v3 units in the z-direction.

So, if you need to move one or more points in a certain direction, you simply construct a free vector that prescribes this translation, and you add this vector to all points needed to be moved.

An example: we want to move points P(1,2,3) and Q(2,4,0) 3 units along the z-axis. Maybe because it are 2 little spaceships traveling with the same speed in that direction. So, we prepare a vector V that contains this translation: V(0,0,3). And now, we apply this vector on P and Q: P + V = (P+V)(1,2,6) and Q + V = (Q+V)(2,4,3).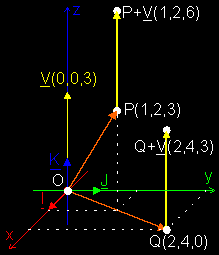 Why is this *cool*? Well, to move objects of course, but one of the other common things you need to do in a rendering pipeline, is to move the camera to the origin ... Normally the camera doesn't stay in the origin; no, you want to walk around in your world. So, you store its current position of the camera C in a place vector OC(c1,c2,c3). OK, now we know where it is, we want to render our world. *But*, to do this, we need our camera back in the origin without changing the view!

What you have to do, is to translate ALL points (including the camera) in the *same* way, so that the relative position of all points remain the same, and the camera is in the origin. What translation do we need? If you look at the picture, you can see that you need to translate all points over –OC. If you do that, you will see that the camera will be back in the origin, and that the relative position of all points will remain the same.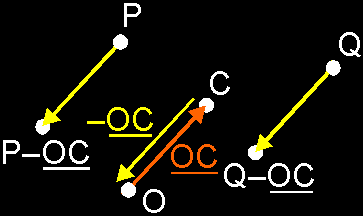 REMEMBER: To add a free vector to a point, add the free vector to the place vector of that point.