| | | |
| --- | --- | --- |
| | Submitted by , posted on 24 February 2001 | |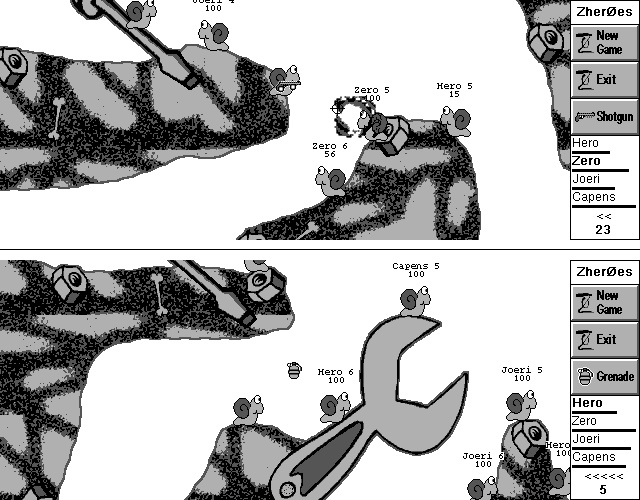 Image Description, by




Here are some screenshots from my Psion game called ZherØes. It's a tactical action game where you must move your soldiers to strategical places and kill your opponent's soldiers with a bazooka, grenades, a shotgun or TNT. Bazooka missiles are influenced by the wind, grenades bounce against the walls and TNT is extremely deadly. All bombs make holes in the landscape so if you play for a while the landscape is really destroyed. You can play with up to four players and you can control eight soldiers per team.

My beta version includes one character, the snail, but I'm also going to make a turtle, a snake and a frog. I also have to add some more landscapes and sound effects. The game can be controlled with the keys or with the touch screen. If you would like to see more screenshots or try the game please visit my homepage.

It's possible to try the game on your PC. There's a EPOC emulator on the Symbian site but it's difficult to install it and the download size is very big. You can always mail me and I'll tell you what to do. It's also interesting if you're thinking about buying a Psion.